Natural DIY Lip Balm With Essential Oils
A good lip balm can be pricey and you never know what quality those ingredients are even though you can read the ingredients on the package. So what not try to make your own DIY lip balm with essential oils? It is easy and safe, and you can also know what's in your lip balm.
What You Need
Lip balm containers
Measuring cup
Glass rod
Bowl
Induction cooker
Beeswax
Cold pressed plant oils, such as: sweet almond oil, jojoba oil, grape seed oil, olive oil, etc.
Essential oils, add different flavors like sweet orange essential oil, lemon essential oil, peppermint essential oil according to your preference.
Basic Lip Balm Formula
3 tablespoons carrier oil (liquid oil)
1 tablespoon beeswax
1 tablespoon solid butter (optional & adjustable)
5 to 10 drops essential oil (optional, possibly more or less)
This will make about 7 or 8 lip balm tubes.
Instructions
Set a glass measuring cup into a bowl with an inch of water in it to create a double boiler.
Melt the beeswax, carrier oil in the glass measuring cup over medium heat.
When melted, remove from heat.
Add essential oils of your preference, and test a tiny amount on your arm to make sure that the scent is not too strong.
Carefully pour into lip balm containers.
Wait until it completely cools down and hardens before putting the cap on.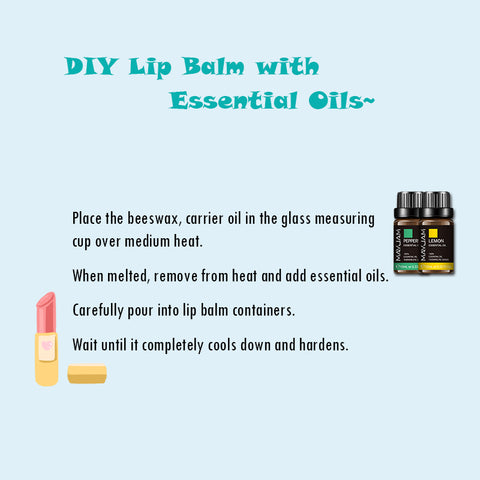 Note:
The containers you use for your homemade lip balm should be clean and dry. This is important to prevent any sort of contamination.
When you're using beeswax as an ingredient, it should always be crushed before melting. This action will help melt it quicker.
To solidify your freshly prepared lip balm, it's best to place it at room temperature.
Try to make your own DIY lip balm now, it's funny and meaningful.You can change the scent by using a variety of essential oils. This lip balm makes a great gift and can easily be customized. Imagine how cute they'd look in a gift box? Perfect gifts for your families and friends.