8 Most Popular Essential Oils And Their Benefits
Essential oils have completely changed the daily lives——from sleep time full of lavender fragrance, to the home full of lemon fragrance and clean furniture, the credit and traces of essential oils are everywhere. If you are looking for a super drive that can inspire power, then it is time to develop the power of plants and step into the world of essential oils.
Lavender Essential Oil
Put into the arms of the scent of lavender essential oil, it can help you relax and pamper your skin.
Benefits:
Disperses a calming aroma and repels intermittent nervous tension
Cleanses the skin and relieves minor skin problems
Peppermint Essential Oil
Use the refreshing aroma of peppermint essential oil to invigorate yourself and make your steps lighter.
Benefits:
Brings refreshing feeling to tired muscles after exercise
Frankincense Essential Oil
Feeling a little exhausted? It's time to stop and reinvigorate yourself through the uplifting aroma of frankincense essential oil.
Benefits:
Help improve skin health and reduce uneven skin tone
Promotes a feeling of relaxation and calm
Lemon Essential Oil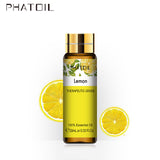 Lemon essential oil will bring you a bright and pleasant smell, which is the first choice when you are in a low mood. Get the boost you need from this oil's cheerful aroma.
Benefits:
Used with evening skin care products to help maintain a youthful complexion and delay skin aging
Cleans and removes adhesives
*Avoid direct sunlight or UV rays for up to 12 hours after applying citrus oils, due to their photosensitivity.
Lemongrass Essential Oil
Like lemon essential oil, lemongrass essential oil brings you energetic fresh air. Unleash this sweet fragrance to help drive off odors.
Benefits:
Help cleanse the skin
Purify the air
Grapefruit Essential Oil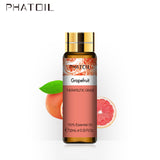 Do you need to regain energy and then start again? Let the grapefruit essential oil's invigorating, energetic aroma accompany you to overcome the difficulties.
Benefits:
Help Cleanse the skin
Promotes an inspiring and energetic fragrance
Cedarwood Essential Oil
Cedarwood essential oil is a natural deodorizer and the likely choice for a loyal sidekick, thanks to its versatility. This timeless, familiar aroma can be added to almost any other blend or botanical to give it a sweeter, earthier profile.
Benefits:
Help cleanse the skin
Help maintain the appearance of youthful skin and healthy-looking hair
A natural deodorizer
Vetiver Essential Oil
An unexpected and somewhat mysterious aide, Vetiver essential oil has a woodsy aroma that can invite a soothing, comforting ambiance into any space.
Benefits:
Promotes a focused, calm and relaxing environment when diffused
Eases occasional restlessness as part of a bedtime routine
Help even out skin tone
Which popular essential oil will you use when you want to inject powerful energy to the new day?