15 Common Compound Essential Oils with Their Benefits
Nov 16,2021 | PHATOIL
Compound essential oil refers to the formulated essential oil that several pure essential oils blended together with base oil to achieve a specific effect, which can be used immediately. Different essential oils are coordinated with each other, and some of them have complementary effects to enhance efficacy.
How to use it?
After cleansing, apply the proper amount to the skin and gently massage until fully absorbed.(Avoid strong light after using)
Reminder:
Keep tightly sealed.
For external use only.
Avoid contact with eyes.
Keep out of reach of children.
Discontinue if irritation occurs.
If pregnant or nursing, consult your doctor before use.
Store in a cool place, avoid strong light and high temperature, and don't store it in the refrigerator.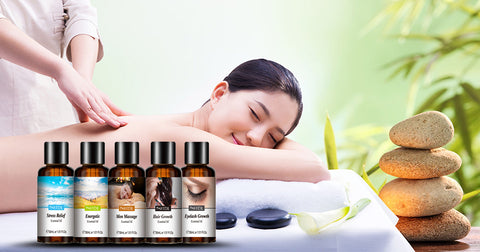 The following are 15 common compound essential oils with their specific effects:
Anxiety Ease Essential Oil
When diffused, it helps calm tensions and uplifts the spirit, promoting relaxation and a deep sense of peace.
Insect Repellent Essential Oil
Naturally ward off bugs, shields from nature's outdoor annoyances.
Immunity Boost Essential Oil
It can help keep you strong and healthy.
Breathe Easy Essential Oil
Ease breathing after exposure to traffic pollution and dust etc. Inhale a few drops on a tissue for quick relief.
Energetic Essential Oil
It can help you revitalize energy levels during a hectic day. Stay alert and combat fatigue whilst driving by putting a few drops on a tissue.
Sweet Dream Essential Oil
It can enhance a good mood by subduing feelings of worry and uneasiness and then help you fall asleep fast.
Stress Relief Essential Oil
This oil blend is created to combat the usual stresses that come with everyday life. It can calm the mind and body, relieving stress and tension whilst enjoying the senses.
Sleep Easy Essential Oil
It can help you relax before you go to bed, get a good night's sleep and even reduce or stop snoring.
Scar Removal Essential Oil
Reduce inflammation, remove acne, fade out acne scars.
Hair Growth Essential Oil
It can effectively promote hair growth.
Eyelash Growth Essential Oil
It can be used for eyelash growth, thicken eyelashes, promote hair growth.
Slimming Essential Oil
Full body fat burning, helping you form a perfect body shape.
Men Massage Essential Oil
It not only can relax and decompress, relieve fatigue, and promote deep sleep but also can strengthen muscles and increase male glamour as well as protect the kidney and strengthen the body.
Penis Enlargement Essential Oil
To promote blood circulation, increase length and thickness of the penis, and extend the time for sex and health effects.
Breast Plump Essential Oil
Increase breast elasticity, improve breast flat, flabby, sagging and other conditions, so that long-term use increased natural breasts.
Comment
Back to Blog.